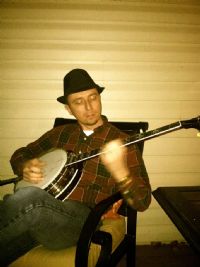 Teaches Lessons: Online, In Person
Styles: Bluegrass (Scruggs) , Clawhammer and Old-Time
Levels: Beginner, Intermediate, Advanced
Teacher Since: 2015
Pricing: $35/half hour
Listing Created: 7/4/2015
Listing Updated: 7/4/2015
More About Me
I'm the youngest of the old-timers. I learned three-fingered style banjo from my father and my grandfather in the hills of Appalachia. Building upon this authenticity I have created my own style which is understated, nuanced, and not over-done. My playing has earned me three Maryland State Championships (03, 04, and 06) and also third place in the Mid-Atlantic in 2003.
Comments
I like your style of playing Frankie,it's what you say it is thanks for your tune - dlmcf
Mr. Revelle, I live in Berkeley Springs, WV. A Model T Club friend told me about you. I'm a banjo novice. Are you available for lessons? Bat Murtha
hawgley16@gmail.com - Bat
You must sign into your myHangout account before you can post comments.