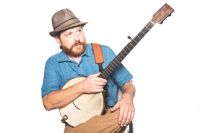 Teaches Lessons: Online
Styles: Clawhammer and Old-Time, Other
Levels: Beginner, Intermediate
Teacher Since: 1997
Pricing: $77/hr One hour lessons. Every other week.
Listing Created: 1/26/2013
Listing Updated: 11/4/2021
More About Me
My private lesson calendar is currently full and I've got a waiting list of seven or eight people so...feel free to email me directly to jump on the waiting list:

Ryan@PlayBetterBanjo.com

and/or:

Check out my online lessons and information at:

http://PlayBetterBanjo.com

The site is packed full of video lessons, tab, instruction, courses, and more...and a whole bunch of it is absolutely free!


I'm a professional folk/acoustic musician and songwriter. I primarily play clawhammer style banjo but I also do some two and three finger styles, as well.

Who's Ryan Spearman?

I'm a professional folk musician, educator, and promoter from St. Louis, MO.

I'm the Educational/Program Director at The Folk School of KDHX (in St. Louis) where–for the last five years– I've produced educational programs and taught classes covering several traditional musical subjects including, clawhammer banjo, old time & bluegrass fiddle, country blues, guitar, jug band, improvisation, music theory, & folk ensemble performance.

When I'm not teaching online or at the Folk School, I'm busy performing, recording, lecturing and touring the United States and Europe.

You can check out my website at:

www.RyanSpearman.com

for more about me, my music, and my many projects.
Comments
Hi Ryan,
I am new to the 5 string banjo, and I am looking to learn! Would like to chat about setting something up. Let me know what times you have open, and what is the best way to contact you. Thanks, Dean - deanrussell
Hi Ryan,
I started with your online lessons in April 2015, the free Clawhammer Crash Course was great. I then signed up for Clawhammer 101, and 30 Days to better Banjo (which I have not finished yet). I am very happy with the way your online instruction style and I have learned a lot. In a little over 4 months I can play 4 songs and my wife says when I practice it actually sounds like I'm playing a banjo!
Sometime I plan to contact you for a lesson, just to have a face to face to see on where I can improve.
Thanks, Dave - OTDave
Thanks for the kind words, Old Time Dave!

Glad to hear your getting value from my online lessons.

Take care and keep in touch, - redbear
I have taken lessons from lots of banjo teachers over the years. They were all good people and good musicians, and eager to share their knowledge. But as a teacher. Ryan is in a class by himself. He has thought a lot about the learning process - everything from how to practice efficiently, to when knowing a little music theory can make a big difference. And he has built up a library of hundreds of hours of lessons and classes. Sometimes, he'll follow up a lesson with a short video clip demonstrating how to play something I am struggling with. - JeremyIggers
You must sign into your myHangout account before you can post comments.