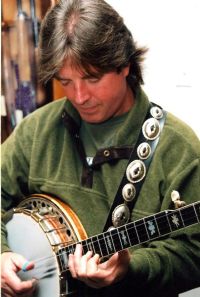 Teaches Lessons: In Person
Styles: Bluegrass (Scruggs) , Classical, Other
Levels: Beginner, Intermediate, Advanced
Teacher Since: 1973
Pricing: $40.00 per hr.
Listing Created: 11/29/2011
Listing Updated: 12/1/2011
More About Me
Professional banjo player. 1975 National Banjo Champion. Teaching banjo since 1973. Former student/friends, Richard Bailey of "The Steel Drivers", Mike Snider of "Hee Haw" & the current " 2011 National Banjo Champion" Weston Stewart. Beginner to Adavanced lessons. All style of music, Bluegrass, Jazz, Classical, Blues, Pop, Country etc.

Availible for Banjo Workshops. Solo/Band. Skype banjo lessons availible soon. Custom Banjo Tabs since 1982. The new "TWIN BANJO'S cd with Randal Morton & Terry Ferguson availible@ CDBaby.com or Randal Morton.com " I love teaching banjo". I have developed a fun & easy method that seems to have been successful for many years. Hope to hear from you soon. Your friend, Randal
Comments
Yo Randal: I met you thru Wayne last night at Newbys.
I thoroughly enjoyed watching your rifs and listening to your pick'n!!
I'm fix'n to retire and have always wanted to play the banjo socially. So you motivated me last night and I'm contacting you to see about getting started.
Rick Rivers aka theolehawk :-) - Theolehawk
Yo Randal: Give me a call at 662-671-2468 so we can set up a first time lesson...Semper Fi - Theolehawk
Yo Randall: We are like ships in the night passing each other. I retired and I'm ready to begin...Please call or text or email theolehawk@me.com so we can coordinate a date and time and get this started...OK?
Semper Fi - Theolehawk
You must sign into your myHangout account before you can post comments.