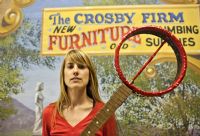 Teaches Lessons: In Person
Styles: Bluegrass (Scruggs) , Clawhammer and Old-Time, Other
Levels: Beginner, Intermediate, Advanced
Teacher Since: 2009
Pricing: affordable, flexible
Listing Created: 2/21/2013
Listing Updated: 6/20/2016
More About Me
Hi!
Thanks for looking into banjo lessons!
The most successful students; (the ones that feel happiest with their progress) are the ones that commit to lessons either weekly or bi-weekly. Because I want to encourage this, I offer a buy 4 get one free lesson package.
There is a great community around oldtime and bluegrass here in NYC. Some of the leading players live and tour through here and you can hear them weekly! Inspiration is limitless and learning banjo will expose someone to a social scene of music making.

Hilary Hawke grew up playing music in Clifton Park, NY and has been based in Brooklyn for the past 12 years. She began playing banjo in 2003 after hearing recordings of Earl Scruggs, Pete Seeger and Bela Fleck while living in the Adirondack mountains of Potsdam, NY. In college at the Crane School of Music, Hilary studied clarinet performance, and music education, as well as classical guitar and music therapy at the University of Georgia and Crane School. After buying a cheap banjo and teaching herself how to pick Old Joe Clark, and John Hardy she finally got some banjo guidance from teacher, Bob Altschuler. Then, in 2004 she moved to Brooklyn where she followed the teachings and playing of Tony Trischka, and was still deeply in love with the young Earl Scruggs. Hilary began performing in many bands in the city and eventually became interested in clawhammer and oldtime music of the appalachian mountains, and music of the Carter Family. Hilary has now been teaching banjo at Jalopy Theatre since 2007 and is an adjunct professor at the New School in Manhattan where she co-teaches a class on American Roots music. She was most recently a featured banjoist sub on Bright Star the Broadway musical, and before that had just performed at Bard Summerscape's production of Rodgers and Hammerstein's Oklahoma! for bluegrass band. Hilary tours with many different projects and string bands and fills her time with teaching private students in Bed Stuy, Brooklyn. Her major influences now are too many to list, and she really is influenced by anyone making music that is near and dear to their heart. Some of her favorite banjo players (in no particular order) Jim Mills, Riley Baugus, Tommy Jarrell, Mike Seeger, Dock Boggs, Tony Trischka, Bill Keith, Roscoe Holcomb...