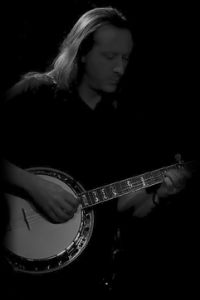 Teaches Lessons: Online, In Person
Styles: Bluegrass (Scruggs)
Levels: Beginner, Intermediate, Advanced
Teacher Since: 2016
Listing Created: 6/16/2016
Listing Updated: 6/18/2016
More About Me
I have been playing 3 finger (Scruggs) style 5 string banjo for over 35 years and have played in a couple of bluegrass and several non bluegrass bands and projects in that time, which has enabled me to take the banjo into many different musical genres and directions. I have written and co written over 200 original songs and tunes that have been published and used in many tv shows and films including; Hart of Dixie, The West Wing, Hatfields & McCoys White Lightning, Beverly Hills 90210, The Drew Carey show, The One Show, Heartbeat, Kendra, Last Call With Carson Daly and Camp Lazlo.

I have taught one to one lessons and workshops over the years and can now offer on-line Skype lessons. Rather than teaching from set tabs and structured programs, I like to tailor the lessons to each individual's needs and goals. I can work from tab (I don't provide tab you would need to send me any tab that you want to work on) or help develop your playing by ear. I have spent an awful lot of my musical career in various studios so can help if anyone is struggling with that; keeping time with the dreaded click track, or maybe coming up with parts on a song – I won't write them for you but I may be able to help you focus on some creative writing ideas.

As this is perhaps not the most conventional of teaching methods I start with a half hour or so free informal chat, to find out where you are and where you want to be. I will also charge half my normal rate for your first full lesson, which are 45 minutes long, this should hopefully be enough time for you to decide if my method is right for you. Lessons are pre-paid via paypal one lesson at a time, and it is up to you how frequent you want the lessons to be.

Further details on current pricing and some tunes and videos can be found here www.paulbishop.org.uk

Thanks for reading.