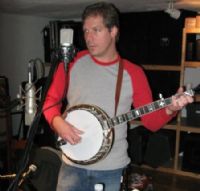 Teaches Lessons: In Person
Styles: Bluegrass (Scruggs)
Levels: Beginner, Intermediate
Teacher Since: 2008
Pricing: Negotiable
Listing Created: 11/23/2011
Listing Updated: 3/6/2013
More About Me
I have a tremendous enthusiasm for all things banjo. This translates into proven methods for achieving good tone, good timing, and precise picking.

Other: I play with the Oak Street Ramblers, a Madison-based band that plays an interesting mix of bluegrass standards, old-time tunes, and originals.

Comments
Hi Mark, I'm Rich Freeze from Plymouth WI, not to far from Sheboygan WI. Do you know anyone from this area that can give lessions for 2 year biginner?
Thank you
Rich Freeze - rfrizzle2
You must sign into your myHangout account before you can post comments.