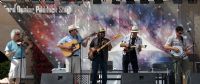 Teaches Lessons: In Person
Styles: Bluegrass (Scruggs) , Classical
Levels: Beginner, Intermediate, Advanced
Teacher Since: 2012
Pricing: $40 per hour
Listing Created: 6/10/2014
Listing Updated: 6/10/2014
More About Me
I grew up listening to bluegrass thanks to my parents on frequent backpacking trips to the Smoky Mountains in Tennessee. I started playing guitar in 1989 and then started playing the banjo in 1995. I play in a local Encinitas bluegrass band, the Hilltop Ramblers. We play often with our friends over at the Encinitas American Legion. I started teaching banjo in 2012 to a high-school banjo enthusiast from the Carlsbad-based Army and Navy Academy.

My teaching approach focuses on building music fundamentals:
1. Timing (using a metronome for practice)
2. Tone & Taste (training the ear through listening and recording)
3. Theory (developing an immersive understanding of melody, harmony so it can be used instinctively)

I've developed and use other experts' exercises that hone technique for right hand Scruggs picking and left hand fretting in isolation and combination.

Finally, I work to help the musician take these tools and develop their own musical voice through composition, recording, and performance.

Email me (matty.herring@gmail.com) or give me a ring (760.445.4837) if you're interested.