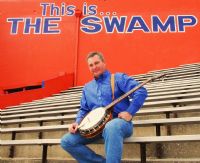 Teaches Lessons: Online, In Person
Styles: Bluegrass (Scruggs)
Levels: Beginner, Intermediate
Teacher Since: 1982
Pricing: $45 per hour
Listing Created: 11/15/2011
Listing Updated: 2/18/2014
More About Me
Scott Anderson has been a fixture on the Southeastern bluegrass and gospel circuit for almost two decades. He began with the contemporary and Southern gospel of First Light, then played the traditional bluegrass sound of the Bluegrass Parlor Band, followed by the driving grungegrass of Endless Highway , the sweet gospel of Gentle River, and the hot bluegrass of The Jim Hurst Band . Now he's melded these and other influences into the powerful acoustic sound of The Scott Anderson Band and the beautiful family harmony of the duo with his daughter Amanda.

Scott has also performed or recorded with Claire Lynch, Sam Bush, Vassar Clements, Larry Rice, Byron Berline, Adam Steffey, Sierra Hull, Clay Hess, Chubby Wise, Allen Shadd, Michael Jackson, Bill Grant and Delia Bell, Blue Angel, Chief Jim Billie, George Custer, Sno Rogers and the Naples Philharmonic Orchestra (yes, with a banjo!) among others. Scott has been featured in Banjo Newsletter, and writes for the magazine as well, including interviews with Tony Trischka, Bill Evans, Greg Cahill, Scott Vestal, Cory Walker and Béla Fleck.

In 2011, Scott released "Tales from the Swamp," the sophomore followup to his critically-acclaimed "Rivers." This project had actually begun in 2009, but was put on hold to complete "Another Day." "Tales from the Swamp" is riveting bluegrass and newgrass and Includes acoustic superstar guests: Amanda Anderson, Tyler Anderson , Barry Bales, Chris Brown, Sam Bush, Stuart Duncan, Michael Godwin, Aubrey Haynie, Clay Hess, Byron House, Sierra Hull, Jim Hurst, Randy Kohrs, Claire Lynch, David McMillan, Missy Raines, Tommy Slaughter, Adam Steffey, Jason Thomas, Jarrod Walker, Tyler Walker, Austin Wilder, and Matt Wingate.

While attending the University of Florida in 1989, he was offered a spot in Tom Henderson's Bluegrass Parlor Band as a bass player and vocalist. So he quickly learned to play bass for their upcoming southeastern tour. Later he switched over to the banjo spot. With the Bluegrass Parlor Band he appeared on "Two Colors" on the Pinecastle label.

In 1993, he co-founded Endless Highway which also included the the amazing talents of Gabe Valla, Greg Turner, Mike Hyde, Tuck Tucker, and Tim Higgins performing grungy bluegrass, soft ballads, and even some hot jazz. With that band Scott performed throughout the Southeast, was a winner in the Pizza Hut Bluegrass Showdown, landed a coveted IBMA showcase spot, and released one critically acclaimed project for Mid-Knight Records in 1996.

In 1999 he returned to Southern and bluegrass gospel and began performing with Gentle River in churches across North Florida. With this band he displayed more of his vocal skills, singing lead, tenor, and baritone parts.

In March of 2001 with the co-production help of Scott Vestal, Scott fulfilled a dream by recording his first solo project "Rivers" featuring some of his original tunes and some of the finest acoustic musicians on the planet: Wayne Benson, John Cowan, Shelton Feazell, Aubrey Haynie, Jim Hurst, Rob Ickes, Missy Raines, Gabe Valla, Scott Vestal and Darren Wainright. Soon after seeing this project come to fruition, he formed The Scott Anderson Band to bring the songs to life on stage.

In 2004, Scott was asked to join The Jim Hurst Band to play banjo and provide harmony vocals. With Jim, Scott has travelled all over the U.S. and as far away as Ireland, playing shows at many wonderful theatres and festivals in a number of exciting locales. All the while, he has also continued to play shows and festivals with The Scott Anderson Band as well as with the Grace UMC Praise Band.

After years of playing together, Amanda and her dad Scott Anderson began performing as a duo in 2008. Amanda handles most of the lead vocals in the duo, as well as supplying sweet fiddle lines. Scott adds harmony and lead vocals as well as guitar and banjo. Their repertoire includes Americana and bluegrass songs from Nickel Creek, Andrea Zonn, Alison Krauss, The Dixie Chicks, and many others. Their dazzling fiddle and banjo duets are favorites at every show. They also perform together in The Scott Anderson Band.