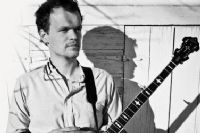 Teaches Lessons: Online, In Person
Styles: Bluegrass (Scruggs) , Classic, Classical, Clawhammer and Old-Time, Other
Levels: Beginner, Intermediate, Advanced
Teacher Since: 2007
Pricing: $50hr
Listing Created: 4/22/2013
Listing Updated: 11/4/2016
More About Me
Now offering video chat lessons via skype/facetime!</p>

Kyle graduated from the Berklee College of Music in 2007 with a degree in songwriting and guitar. Since graduating he has turned his focus to banjo and has studied with some of the most innovate players in the world. Kyle maintains a busy touring and recording schedule and is releasing his 2nd full length album in 2013.

Kyle is quick to create a strong rapport with his students and believes that teaching and sharing is an integral part of being a professional musician.

Videos:

w/ David Grisman
https://www.youtube.com/watch?v=M4LGXvoEqt0

Rapidgrass music video - "Crooked Road"

https://www.youtube.com/watch?v=Jvu0owG8qz4

Student Testimonials:

"Kyle is one of those rare individuals that, in addition to being a phenomenal performer, can actually teach music. His obvious passion for music shows in his teaching style, whether you're a seasoned performer or a complete newbie." - J from Castlerock, CO.

"In 2011 I decided to learn the banjo so I could perform on stage with a friend during a concert that summer. I discovered KJ and he not only helped me learn the song, he helped write my part. Through private lessons and group lessons with my friend I learned to play the banjo and it was a huge success thanks to KJ." - T from Denver, CO.