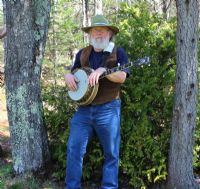 Teaches Lessons: Online, In Person
Styles: Bluegrass (Scruggs)
Levels: Beginner
Teacher Since: 1996
Pricing: $30/hour...1st lesson is free.
Listing Created: 7/16/2023
Listing Updated: 7/16/2023
More About Me
Music has been my passion since the 60's. I prefer to teach beginners, not because it's any
easier; I have found that the best way for a picker to develop is to start with the basics,
including properly setting up your banjo for the best sound, then learning the picking/roll patterns before attempting some simple tunes. Keeping it simple has always been my teaching style, concentrating on having fun, not simple memorization of tunes. I also teach you how to read
and interpret banjo tab.

Having started on the violin, I moved to the clarinet & oboe, cornet, french horn, sitar, bagpipes, Northumbrian pipes and banjo, both bluegrass and minstrel styles. I recommend several books for beginners, mostly the beginning banjo series by Ross Nickerson at BanjoTeacher.com.

I do lessons in your home as well as mine, however most students are more comfortable in a
setting they're familiar with. If you haven't purchased an instrument yet, I can steer you in the
right direction with cost being an important deciding factor. My philosophy is that a beginner doesn't need a $$$$$$ banjo to make good music, but a cheaply built model may be 'difficult' to set up and will only discourage proper learning. Even a lower cost banjo will sound good if it can be setup properly. I can also do Zoom lessons if distance is a big factor. I normally recommend a bi-weekly schedule since adults have other things to do. I do try to insist on at least 2 or more hours a week practicing. My 1st lesson is usually 1.5 to 2 hours, and is free.

Ask questions...LOTS of questions before you decide on buying/learning. Answers and advice are always free ... @ ipipe4u@hotmail.com.