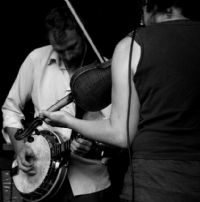 Teaches Lessons: In Person
Styles: Bluegrass (Scruggs) , Clawhammer and Old-Time, Other
Levels: Beginner, Intermediate, Advanced
Teacher Since: 2001
Pricing: $60 per hour, $35 per half hour
Listing Created: 11/15/2011
Listing Updated: 2/20/2012
More About Me
Based in Melbourne, Australia, Gus has 20 years of experiences playing banjo, including 15 years of touring Australia and 11 years touring America, Europe, and Asia with his band Blue Grassy Knoll. In 2003 he was fortunate to have studied with several great banjo teachers in the USA , and has been teaching ever since. He was the 2005 Guildford Banjo Jambouree two tune pick off champion!

Gus loves teaching and has upward of 30 students at the moment, they range in age from 11 to 73, men and women, talented and triers. Everyone goes at their own pace – some come weekly, others fortnightly, some come in fits and starts… each according to their requirements. Gus works out the needs of each student and tailors their syllabus accordingly.

He's used to players of all standards – he can start people from scratch, getting their picking fixed up right from the beginnning, and give them things that they can play without too much hassle, so that it's not all hard work and no reward. Books and the internet are a great resource but there's nothing that beats having someone showing you how to do it.

He is also able to help more experienced players that might be stuck in a rut with their banjo practice… or just need some inspiration to pick it up again, through
- Developing new rolls – take the rolls you know and turn them on their head. Play familiar songs in an unfamiliar way.
- Explore Up The Neck – work out why those high tab frets go where they do.
- Scales and Improvisation – learn about blue notes and simple riffs to keep things interesting.
- Basic music theory. Look at the big picture of how music fits together. Harmony, melody and rhythm.
- Working out songs – if you've got a song that you've always wanted to play Gus can tab it out for you.
- Christmas Carols – get you in the spirit of the season.
- Developing picking speed – start to sound like those speed demons on the web.

He has a large selection of music that he gives to students as they progress, from all different sources, he tends to pick the best tunes from different books, and also give students a CD of the things they'll be playing, but nice and slow, so they can hear what's what. He'll also give you a compilation CD of some of his favourite banjo tunes. He also has a large lending library of bluegrass CDs and DVDs available for students to borrow.

Gus is happy to take on more students, if you're willing to give it a try. He charges $60 an hour, and he teaches from a dedicated banjo teaching space at his home in Brunswick.

He also has gift vouchers if you are looking for a present for a friend or loved-one who plays/wants to play the banjo.

You can contact him on gus@gusmacmillan.com or 0412 964435 to have a chat and make a lesson time.