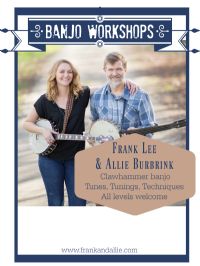 Teaches Lessons: Online, In Person
Styles: Clawhammer and Old-Time
Levels: Intermediate, Advanced
Teacher Since: 1995
Listing Created: 12/11/2018
Listing Updated: 12/11/2018
More About Me
Having made a name for himself as the syncopated, melodic player in old time string band The Freight Hoppers, Frank is a national treasure when it comes to clawhammer banjo. He has an instructional DVD on Homespun and released four albums with The Freight Hoppers, with whom he toured North America and Europe. His ability to match a fiddler note-for-note particularly unique. In the duo with his wife Allie, Frank plays not only steel string banjo but also a low-pitched nylon string, fretless banjo.

Frank and Allie have led banjo workshops across the country and in France, with Allie teaching beginning players and Frank teaching advanced players. They will host a weekend banjo workshop in Mountain View, AR March 14-16. They also host an annual old time music retreat called the Banjo-Fiddle Frolic in their town, which will be held April 5-7, 2019.

Frank is available for Skype lessons. Additionally, in-person lessons can be arranged if you're traveling to western North Carolina, or if Frank & Allie will be touring near you. Visit www.frankandallie.com/shows to see their tour schedule. Email franklee6@yahoo.com or frankandalliemusic@gmail.com to set up your lesson!