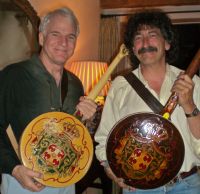 Teaches Lessons: In Person
Styles: Bluegrass (Scruggs)
Levels: Beginner, Intermediate, Advanced
Teacher Since: 1987
Pricing: $60 per hour
Listing Created: 4/16/2012
Listing Updated: 2/10/2018
More About Me
I've recorded & toured with many well known folks including Paul Simon, Arlo Guthrie, Peter Rowan, Bill Keith, John Herald, Happy & Artie Traum, Eric Weissberg, Travis Tritt and others. I've been a featured instrumentalist at The Grand Ole Opry, Carnegie Hall, Farm Aid, Mountain Stage and other world class venues. Additionally, (I was a 2 time nominee in Frets magazine in the category of "Best Mandolin".)

In addition to performing & recording, I've been teaching bluegrass Banjo & Mandolin ( Scruggs & Keith style) for about 25 years.

Drop me an email or give me a call if you're interested in learning to play or simply wish to give your playing a "booster shot" My students range from folks that have never played before to some folks that are teachers themselves.

My lessons are fun and tailored to your individual learning style.

Learn a bit more about me at http://www.gordontitcomb.com
Email: tunesmith53@yahoo.com
Tel. (860)-307-3939 Thanks!