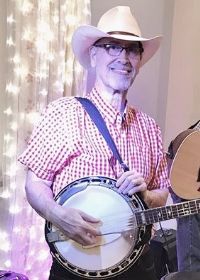 [Send "Fiddlin' Al" a message]
Teaches Lessons: Online, In Person
Styles: Bluegrass (Scruggs)
Levels: Beginner, Intermediate, Advanced
Teacher Since: 1975
Pricing: Online or In Person / Please Call for special rates for BHO members
Listing Created: 11/15/2011
Listing Updated: 11/15/2023
More About Me
407 - 924 - 9315 - cell
pcsvc@cfl.rr.com
Skype ID: fiddlin.al
Howdy,
I currently have online bluegrass banjo students from around the world and across the U.S.
I can confidently say that I've refined the online instruction experience to the point that almost anyone can learn quickly,efficiently, and fully understand what they've learned.
My students are all BHO members and can't believe the progress they are making!
Everyone gets my LIVE, REAL TIME undivided attention and receives one on one individualized lessons that are structured and tailored to your own specific goals and technical ability. This is not a cookie-cutter, mass-media classroom, or DVD format approach.
Even if you are just starting out, feel you're not progressing, or are trying to understand and apply backup, improvising, melody, theory, playing in a band/jam, or are in a rut, I guarantee I'll get you rollin'!! I also guarantee you'll have the most fun doin' it!!
I am also an IT professional/Computer consultant and can help with configuration and equipment selection as well.

More Stuff About Me:
I've played with Red Allen, the Allen Brothers, Vernon McIntyre, Earl Taylor, and Big Timber on the Bluegrass Festival Circuit throughout the Midwest, Northeast and Southeast U.S and Canada from the early 70's through the early 80's. I was a full time staff musician at Walt Disney World and member of the Walt Disney World country & bluegrass band "Handpicked" from 1982-84. Other performances include recording sessions, national commercials, the Grand Ole Opry, live television, Hard Rock Cafe, House of Blues, Daytona 500, Sea World and other theme parks, major festivals and concert venues. Currently, I play concerts, night clubs, conventions and themed functions at hotels and venues in Central FL and on Disney property with 3 different bands.
Although I'm known by the "Fiddlin' Al" moniker ,and do teach Mandolin and Fiddle, I have developed a unique in depth methodology for teaching Scruggs-Style Banjo over the internet.
Here is some truly unsolicited feedback from some of my students as it appears on BHO.
------------------------------------------------------
- I have been taking lessons with Al for just over a year. He is the third teacher I have had and the best. In fact it is hard to conceive of a better teacher unless he lived down the street. He is a constant amazement to me! He can see more on Skype than my other teachers sitting next to me.
Put simply HE HAS A PLAN!!!!! A plan to make you better, learn the skills you need and present in a way that it can be accomplished, with some work on your part. Sometimes I almost scare myself. It actually sounds like banjo music, the way it's supposed to sound. After every lesson all I can say is, that was great.". I will warn you, you have to practice but the improvements are well worth the work. Plateau? What plateau!
I have played for years, but I am only just now playing cleanly and sounding like something. I also have a shelf of DVDs but Al's instruction has been the only thing that has made me better!

-Brian B.
------------------------------
I too am one of Al's students for about 5 months now. I have come so far from where I was stuck. I tried local teachers and that didn't work out real well. I tried books, DVD's, free online stuff and I just couldn't make any headway. My goal was to learn to play with others and learn back up. Al has been great teaching me back up. I feel it's not something you can do if you don't understand all the little things that go with it. If you want to learn to play more than a vamp or basic roll through chords, get with Al and he will get you going down the right path. It may take a few lessons to correct things before you get to where you want to be, but I assure you, if you put in the time to practice, he will get you doing interesting back up. I cant wait for my next lesson !!

-Scott A.
-----------------------
I live in South Carolina and have been Al's student since last March. I can't begin to say enough about how much Al has helped me progress in my playing. As said before, not only does he teach you how to play but he gives you an understanding of how the music works. When I first talked to Al about taking lessons, I told him that my goal was to be a recreational player and maybe play some in church once in a while. Now I am in a band and we just finished playing a show this morning at a local church. It is amazing how far you can take this instrument with the right instruction and help. I could have spent the next 5 years trying to learn to play on my own and would probably still be playing Cripple Creek and Cumberland Gap. Now I have a song list so long I can't begin to list them all. If you are looking for lessons that are challenging but well worth the work, you can't go wrong with Al.

Jeremy B.
--------------------------------

So, if you feel you're serious about learning, want to have more fun than you would expect, and want to be surprised at how quickly you can reach your goals, take the next step and call or email me. I'll be glad to talk personally by phone with anyone sincerely interested in learning, from beginner to advanced.
You won't be disappointed!
BTW, I'll gladly furnish references.

Fiddlin' Al
407 - 924 - 9315 - cell
pcsvc@cfl.rr.com
Skype ID: fiddlin.al











Comments
I'm a beginner and have had lessons with Al for 6 months or so. For the previous 6 months I dabbled with tabs and YouTube. I can't believe where he has taken me. He has a structure which builds, giving you simple things to focus on each time, an understanding of why you need to get it right, and the the assistance to get it right. When you look back you can see every brick is important in what you are building. Plus all things interesting about the banjo come up, and it's all done with a great deal of humour. I couldn't recommend him more. Although I wish sometimes he wouldn't pay quite so much attention, you cannot slip a bum note past him. in saying that as an example, he knows when it's just a slip or a bad habit, if it's a habit your developing he spends the time fixing. - thelongcarabine
I had been playing for several years but seemed to have hit a wall. My picking just didnt seem to be progressing as I would have liked. A friend told me about Al. I started weekly lessons with Al four months ago and I can tell you it was one of the best decisions I have ever made. His teaching approach and ability to make a student understand is really amazing. Al pushes you to get better and does it in a such a positive way that I feel a great sense of accomplishment after each and every lesson. I would strongly recommend Al to anyone no matter the experience level. I can guarantee you that you won't be sorry. - joe peddy
al has been my teacher for just about two years, he has helped me appreciate the meaning of "playing it right" to get the real sound of the five string. As well as being a hell of a nice guy, he is a great teacher and mentor, thanks Al
Scott Paterson
Small town Ontario Canada playing my 1978 Stelling Bellflower - wsp
I found Al here on Banjo Hangouts. After interviewing several instructors for banjo lessons I selected Al and boy I'm glad I did.

The other comments here are SO true:

1) he has a plan to take you from where you are to where you want to be. So each new song or technique is a building block along the way.

2) He's a master on skype and very comfortable with the technology. He sees my hands and hears my playing amazingly well over skype.

3) Because he's also expert at fiddle and guitar, he can show me how the banjo relates to the other instruments.

Bottom line - with Al's help my playing is moving forward by leaps and bounds. I strongly recommend him! - cjmssmd
You must sign into your myHangout account before you can post comments.