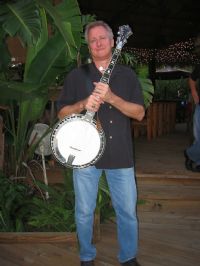 Teaches Lessons: Online, In Person
Styles: Bluegrass (Scruggs) , Classical, Other
Levels: Beginner, Intermediate, Advanced
Teacher Since: 1977
Pricing: Contact Me Personally for Rates
Listing Created: 11/15/2011
Listing Updated: 11/17/2015
More About Me
David Jakubiak

Website: www.fretmentor.om

Born in Detroit, Michigan, I have been involved in music all of my life, beginning as a concert band clarinet player at age 8 and turning his attention to stringed instruments at 10 years old, first as a banjo player and then as a guitar player. I began performing as early as high school and later won some group talent competitions while a student at the University of Michigan. I earned a Bachelors degree in Organizational Psychology from the University of Michigan and a Masters in Public Administration from the University of Kansas. In addition, I also took various courses in classical music and music history.

My lifetime passion consists of teaching music and performing as a musician. In addition to on-stage performances, I have played in various venues from outdoor festivals to small nightclubs. I play, perform and teach various styles of music, including bluegrass, rock, pop, blues, jazz, classical, country and styles. As an instructor of the five-string banjo, I have explored diverse styles ranging from Scruggs three finger picking techniques, Reno and Melodic styles, and various genres from bluegrass to jazz, blues, and classical banjo. I also teach acoustic and electric guitar in both finger-style and flat-picking and various styles for Mandolin.

For over 30 years, I have taught all age groups, taking a personal interest in each student to ensure that they receive personal attention and lesson plans that meet their needs and interests. Students learn various styles of five string banjo, guitar as well as the the mandolin. My lessons and instructional materials place a strong emphasis on music theory to ensure that the student understands the instrument and how to improvise to develop their own style. in addition to teaching a weekly Bluegrass Performance Class in Jupiter, Florida, I have taught a variety of group classes in the five string banjo, acoustic guitar, electric guitar, and mandolin through the County Adult educational programs.

I have produced six instructional books on CD entitled "Learning The Five String Banjo – Volume I","Basic Guitar Concepts – Volume I", "Performing Bluegrass and Accompanying Other Musicians (Volume I and II)" "Guitar For Children" and "Introduction to the Mandolin". Additional volumes are currently being produced and will soon be available.

Finally, in addition to writing various articles for Banjo Newsletter, I also write a music blog entitled "Fretmentor's Blog". In addition, I just released a mobile instructional app for the iPhone and iPad.