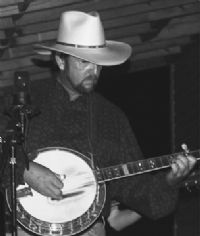 Teaches Lessons: In Person
Styles: Bluegrass (Scruggs)
Levels: Beginner, Intermediate, Advanced
Teacher Since: 1997
Pricing: $40
Listing Created: 4/1/2014
Listing Updated: 8/23/2014
More About Me
Mark was born and raised in the hills of western North Carolina, surrounded by some of the best Bluegrass music ever made. He has been playing the banjo and guitar since he has very young. Mark has become an expert at the three-finger Scruggs style of picking. Over the years he has performed at music festivals, competitions and special events with his band, Radio Dispatch, and their hard driving traditional Bluegrass sound.

Lessons are scheduled on Tuesday, Wednesday, and Thursday evenings.

Lessons are 45 minutes long, and are booked at 6, 7 and 8 pm

All lessons cost $40 per person, cash only

Students may book more than one slot at a time (from 6-8pm for instance) and pay for two lessons at once, subject to availability.

Lessons may include up to 3 students at the same level, subject to availability.

To hold a regular spot in the schedule, students must bring payment for the first and second sessions to the first lesson.

Students are encouraged to bring a device to record themselves and the lesson for instructional purposes.

Mark teaches by ear, as well as tablatures.

Mark plays an Osborne Chief banjo, #10.
If you would like help locating a good banjo, he would be glad to help you.
Comments
I'm a novice Banjo student.

He's straight from the hills of Western North Carolina and he teaches Genuine Deep South 5-string Bluegrass Banjo.

He teaches PURE Bluegrass 5-string Banjo in the "old school" style by demonstrating, playing, showing, proving, listening, correcting, and playing along; note for note, and accompanying you with backup chunking, or fills, with either his Banjo or his Guitar.

If you want to focus on one particular Banjo artist like Earl Scruggs, Sonny Osborne, or J.D. Crowe, then he can guide you there too because he knows their unique individual styles.

He allows students to bring a recording device like video cam, or digital audio recorder.

He supplements his lessons with accurate tablature if available, when needed.

To me it's like I'm back in North Carolina at my house, on my front porch learning tunes with one of my 5-string neighbors.

He knows Banjos too. The action on my Banjo was too high and the coordinating rods were loose. I never wanted to play above the 5th fret because of this. I allowed him to look at it. He corrected and adjusted my Banjo fully and now I don't have to play only in the open position anymore.

-JG
- Jaysyn Slayde
You must sign into your myHangout account before you can post comments.