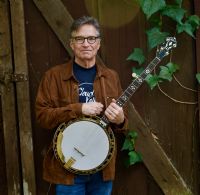 Website: billevansbanjo.com
Teaches Lessons: Online, In Person
Styles: Bluegrass (Scruggs)
Levels: Beginner, Intermediate, Advanced
Teacher Since: 1978
Pricing: $90 per hour
Listing Created: 11/20/2011
Listing Updated: 10/18/2023
More About Me
Simply put, Bill is one of the most in demand bluegrass banjo players, teachers and workshop leaders in the world. In a teaching, performing and recording career that now spans across almost five decades, Bill has performed with David Grisman, Peter Rowan, Dan Crary, Alan Munde, Tony Trischka, Dry Branch Fire Squad, and many others. He is also the author of "Banjo For Dummies," "Bluegrass Banjo For Dummies," "Banjo: Absolute Beginners," and "The Parking Lot Picker's Songbook: Banjo Edition." He teaches Beginning Banjo and Bluegrass Banjo online courses at Peghead Nation, in addition to Earl Scruggs: A Player's Guide, The Banjo Style of J. D. Crowe and Melodic & Single-String Banjo.. You can use the coupon code "BillE" at checkout to try any one full course for a free month.
Bill has taught at virtually every banjo camp in the world and directs or co-directs his own annual events in California and his home in New Mexico, including the New Mexico Banjo Camp in Kingston.

Bill hosts instructional video downloads for Homespun Tapes and the Murphy Method. His latest DVD set from Homespun is "Licks-ercises for Bluegrass Banjo: Scruggs, Melodic & Single-String Styles," Vols. 1 & 2 and "A Bluegrass Banjo Christmas." Click here to visit Bill's Book & DVD Store. Click here to learn more about all of Bill's Homespun instructional video downloads.
He has literally taught thousands of students from all over the world, and some of his students who are now professional players include Chris Pandolfi (The Infamous Stringdusters), Erik Yates (Hot Buttered Rum) and Wes Corbett (Sam Bush Band).

But you don't have to have professional aspirations to study with Bill. He welcomes students of all ability levels via Zoom from his new home in Mt. Sidney, Virginia, just north of Staunton and two hours from the Washington, D. C., Roanoke and Richmond, Virginia areas. Sessions begin with learning great technique and move on to Scruggs, melodic and single-string styles, backup, improvisation, jam techniques and much, much more. Bill teaches what you want to learn, working with you to establish an individualized program to help you achieve your banjo goals.
Many of Bill's students are adult learners, many of whom are returning to banjo after setting it aside for many years because of family and work requirements. Bill adapts lessons to your learning style and the emphasis is on fun and making the best use of your practice time.

You can learn more about Bill by visiting www.billevansbanjo.com or email him at bill@billevansbanjo.com. View performance and instructional videos on Bill's YouTube page.
Comments
Hi MR. EVANS....I have listened to your videos and am intrigued by your teaching methods... I just started learning Banjo playing. IO have learned from you ...I am still learning. Thanks.... - dragline
You must sign into your myHangout account before you can post comments.