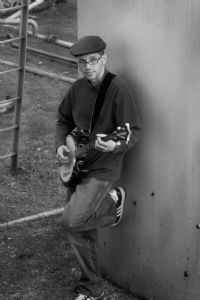 Teaches Lessons: Online, In Person
Styles: Bluegrass (Scruggs) , Classical, Clawhammer and Old-Time, Other
Levels: Beginner, Intermediate, Advanced
Teacher Since: 2007
Pricing: $20/half hour (Skype rate), $30/half hour (studio rate)
Listing Created: 11/15/2011
Listing Updated: 10/17/2017
More About Me
I was classically trained on the piano from age six to my late teens. From there I picked up the banjo and guitar, studying old time banjo and ragtime/Piedmont blues guitar. I then studied Scruggs style and beyond. I have played professionally for over 10 years, highlights include playing with Tut Taylor, Laura Love and Jim Lauderdale. I currently front a band that mixes the banjo w/ urban styles.

I started teaching part time and it blossomed into a full time endeavor a while ago. I strive to get the student playing what they want as quickly as possible. I am also a proponent of music theory.

Feel free to ask any additional questions!
Comments
I have known Adrian quite awhile, and he's a really dedicated teacher and accomplished musician. You can be assured of thorough and thoughtful lessons which will help you reach your playing goals. That and hes just a super good guy too. - Banjophobic
I've been taking lessons from Adrian for four months now and I highly recommend him to anyone looking for a great teacher.

I came to Adrian as a beginner but had a few ideas of what I wanted to learn. Primarily, I didn't want to just learn to regurgitate all the popular bluegrass songs. I wanted to learn how to learn. Adrian has been great in this way. He's well accomplished in several genres and has taught me bluegrass as well as jazz songs. He is able to give helpful feedback and has helped me develop a practice routine that is making a difference each week. I'm seeing progress that I wasn't able to achieve after a year on my own.

One interesting aspect for my lessons is that I live in the Middle East. So my lessons are over Skype. Adrian has managed our time difference of seven hours well and I don't feel like we've been limited by Skype at all. It may be (and probably is) better in person but I don't feel limited in our weekly lessons at all. - jrsower
You must sign into your myHangout account before you can post comments.