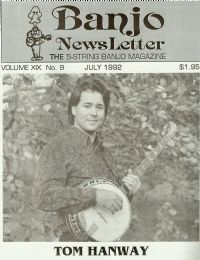 Teaches Lessons: Online, In Person
Styles: Bluegrass (Scruggs) , Other
Levels: Beginner, Intermediate, Advanced
Teacher Since: 1998
Pricing: Negotiable
Listing Created: 11/16/2015
Listing Updated: 4/12/2022
More About Me
I am an American 5-string banjoist who travels back and forth across the Atlantic whenever I can. I am also blues guitarist, composer and studio musician. I wear many musical hats and do a recording session work in different genres including TV commercials, pop, rock, country, bluegrass and Irish trad.

I am currently teaching bluegrass banjo, Irish and Celtic fingerstyle banjo. I have four Irish and Celtic collections with Mel Bay Publications, Inc.

-Complete Book of Irish & Celtic 5-String Banjo (1998)
-Best-Loved Jigs and Reels (2012)
-Best-Loved Airs and Session Tunes (2013)
-20 O'Carolan Irish Classics for 5-String Banjo and All Instruments (2015)

I enjoy being a musical shape-shifter, and have worked in many bands, playing many styles of music since the mid-eighties.

I feel blessed to be working in life with like-minded artists, also being a resource for students of the banjo. I teach, tour, and play as much as I can, traveling back and forth between Ireland and the United States. I'm always on the prowl for cool tunes, and I collect traditional music from across a wide musical spectrum.

Comments
Hi Tom, I am interested in getting some lessons from you. Can you say how I might contact you to arrange same.
Regards Pascal - DUBHDA
Okay, I'll be in touch.
- Tom Hanway
Tom, would you please message me? I would like to get some lessons. Thank you. -Sarah - sdonovan4444
Hello Tom, i'm interested in some banjo lessons aswell :) Can you text me? Greets, Steve - MrPokeylope
You must sign into your myHangout account before you can post comments.