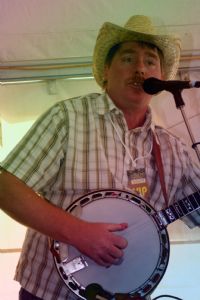 Teaches Lessons: In Person
Styles: Bluegrass (Scruggs)
Levels: Beginner, Intermediate, Advanced
Teacher Since: 1979
Pricing: Hourly
Listing Created: 11/24/2011
Listing Updated: 1/30/2012
More About Me
My lessons are held at my Surrey, BC studio. I teach the Scruggs Bluegrass Style of Banjo playing from beginners through advanced levels.

I am formally trained through the Toronto Royal Conservatory of Music. I first started playing the banjo more than 30 years ago.

Currently I play banjo with 'The Bullfrogs' band and teach at my Surrey, BC studio. I am also teaching children's music throughout the lower mainland of BC in various schools and preschools. My banjo is getting into the classrooms on a daily basis and children all over are falling in love with it!

Contact me for more information.