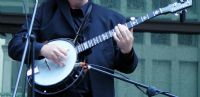 Teaches Lessons: Online, In Person
Styles: Bluegrass (Scruggs) , Classic, Classical, Other
Levels: Beginner, Intermediate, Advanced
Teacher Since: 1989
Pricing: 80 per hour
Listing Created: 6/24/2013
Listing Updated: 6/24/2013
More About Me
I am currently teaching banjo and guitar at the Old Town School of Folk Music in Chicago where I have taught for the last ten years. I founded the award winning bluegrass band Tangleweed. I had my first guitar student in Vienna Austria at the age of 15 where i attended the Americna International School. One of my friends was Lucus Ligeti, son of the famous composer Gyorgy. We would practice in his basement. I attended the Berklee College of Music in Boston, playing with Letters to Cleo, and The Verge. Eventually I finished a Masters in Education from the University of Iowa. My expertise is in improvisation, ear training, theory, melody and chord construction in Rock, Country, Classical, Pop, Jazz, and Bluegrass.
Comments
I took lessons from him for two years. He is really excellent. Very thorough and careful about performance technique as well as the nuts and bolts of the music. - didasko7
You must sign into your myHangout account before you can post comments.