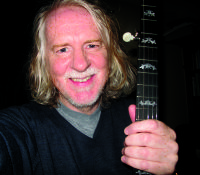 Teaches Lessons: Online, In Person
Styles: Classical, Clawhammer and Old-Time
Levels: Beginner, Intermediate, Advanced
Teacher Since: 1992
Pricing: £30 per hour
Listing Created: 11/29/2011
Listing Updated: 11/29/2011
More About Me
Mel Bay author of two banjo books and four ukulele books. 8 CD recordings, three banjo recordings.
I live in Edinburgh, Scotland, but can teach via Skype.

A few websites to view:

www.robmackillop.com

www.classicbanjorm.com

and my teaching site

www.GuitarLessonsEdinburgh.com

Feel free to contact me regarding lessons in the classic style from beginner to advanced, or in the clawhammer style from beginner to intermediate.