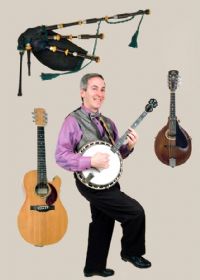 Teaches Lessons: In Person
Styles: 4-String (Tenor/Plectrum), Bluegrass (Scruggs) , Clawhammer and Old-Time
Levels: Beginner, Intermediate, Advanced
Teacher Since: 2004
Pricing: $45 for an hour, $25 for a half hour
Listing Created: 2/1/2014
Listing Updated: 2/1/2014
More About Me

I teach Bluegrass and clawhammer banjo as well as Dixieland and Irish styles on the tenor banjo. I have performed as a musician, actor, singer, storyteller and tap dancer on Broadway, The Kennedy Center and at theaters and festivals from New Jersey to Alaska. I studied banjo, mandolin, ukulele and guitar with the great vaudeville musician, Roy Smeck. He is featured in Al Jolson's first talking picture, "The Jazz Singer". I have played for many years in my own Dixieland, Swing, Country, Bluegrass and Irish bands. My Irish band by the name of Ceili Country was featured in 2007 at the Hunter Mountain Irish Festival.

Because I have worked as an actor and singer on Broadway, I am also useful coaching singers, folk musicians and actors with material they are working on. I ALSO TEACH LESSONS ON SKYPE.

Richard Stillman was featured as a banjo player/singer on the premier episode of the PBS television series Shining Time Station. He received critical acclaim for his performance as a singing banjo and ukulele player in Lady Be Good at the Kennedy Center and the Goodspeed Opera House. On Broadway Mr. Stillman played the Clerk of Oxford and played mandolin and bagpipes in Canterbury Tales, and understudied Mummenschanz. Regional theatre productions in which Richard worked as an actor/composer/musician include: Take it From the Top with Ossie Davis and Ruby Dee, Midsummer Night's Dream at the Alaska Repertory Theatre, Twelfth Night with Jean Marsh and Nicholas Martin, Man of La Mancha at Theatre by the Sea, and Hamlet with Rip Torn and Geraldine Page. He has performed at the New Jersey Folk Festival, opened for Jim Henson and Kermit the Frog, and performs every year as a musician and storyteller at the New Jersey Storytelling Festival.