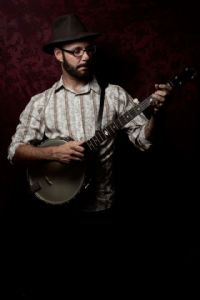 Teaches Lessons: Online, In Person
Styles: Clawhammer and Old-Time
Levels: Beginner, Intermediate, Advanced
Teacher Since: 2009
Pricing: POA
Listing Created: 11/16/2011
Listing Updated: 6/2/2021
More About Me
Hi there,
I've been playing since 2001, focusing on clawhammer since about 2006. Member of the Bluegrass and Traditional Country Music Society ( BTCMSA) and am a regular at the Sydney meets. Currently playing solo and with other artists at times, mainly based in Sydney.

Have played at a number of festivals, in a contemporary folk band, alt country and straight ahead old timey. I've run workshops at a number of festivals and have recently led a clawhammer course at the local community college. I often design my own tabs.
Have played on a few recordings in a variety of music styles as well, and have recorded a solo clawhammer album of original tunes and songs, named 'Banjo From The Cumberland Plain.

I enjoy adapting clawhammer to contemporary uses as well as maintain the traditional.
Rates and venues for lessons can be negotiated.

Drop me a line !

Comments
Hi Richard I am interested in lessons if possible ? Do you a number I can contact you on ? Kind regards John mb: 0401311227 - herman p willis
Hello Richard

Whereabouts in Sydney are you based? - nickv52
Hi Richard, Wonder if you are still taking students? Only new to the banjo and would love to learn clawhammer techniques. I am going to Karauh bluesfestival next weekend and have heard you might be performing. Regards, Cathy - cathy andrews
You must sign into your myHangout account before you can post comments.