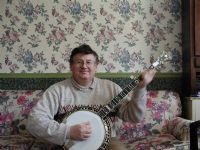 Teaches Lessons: In Person
Styles: Bluegrass (Scruggs)
Levels: Beginner
Teacher Since: 2013
Pricing: $30 covers setup, first 4 lessons and a DVD
Listing Created: 9/16/2013
Listing Updated: 9/17/2013
More About Me
Playing on and off since 1981.

I like to help and teach beginning players how to setup and maintain their banjo for the best playability and sound, even the cheaper banjos can be made to play well.

I recommend the Murphy Method DVDs for those who prefer to learn at home.

I will start you in the banjo playing process and correct any playing issues along the way.