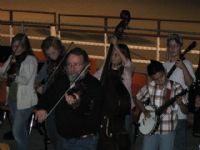 Teaches Lessons: In Person
Styles: 4-String (Tenor/Plectrum), Clawhammer and Old-Time
Levels: Beginner, Intermediate, Advanced
Teacher Since: 1991
Pricing: $25.
Listing Created: 11/15/2011
Listing Updated: 5/21/2013
More About Me
I am currently teaching violin classes and general music at Mountain Oak School, a Waldorf charter school here in Prescott. I was the teacher/director of the youth band "Generation", the performing group of the Sharlot Hall Museum Historical Arts Conservatory, from January of 2011 through March of 2012. Prior to my retirement last year, I was the String Band teacher at Heritage Middle School in Chino Valley, AZ, beginning in 1991. We had bass, banjo, fiddle, mandolin, and of course guitar. We averaged around 30 students, and played a mix of old time, Celtic, and vintage rock numbers. I taught hundreds of kids to play, and it was a great joy.

I currently give lessons to adults and children on clawhammer banjo, fiddle, mandolin, and guitar. I am an idiosyncratic melodic clawhammer player, and I can arrange and tab tunes when requested. I've also played a good deal of Celtic tenor in my time. I welcome new students.