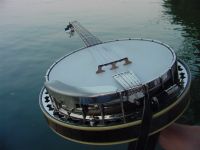 Teaches Lessons: Online, In Person
Styles: Bluegrass (Scruggs)
Levels: Beginner, Intermediate, Advanced
Teacher Since: 1990
Pricing: negotiated and based on a 1 hour lesson
Listing Created: 11/15/2011
Listing Updated: 6/30/2022
More About Me
I enjoy working with banjo students at all levels and abilities and most of my students are from the Finger Lakes area of upstate New York. I've had students as young as 7 and as old as 88! My specialty is 3 finger bluegrass, but I can cover claw hammer basics for anyone interested in that style.

I don't follow a rigid "module" approach to teaching. My style is to find out what each student wants to accomplish. Many students wish to be able to jam with other players, so the focus is often on understanding how songs can be played with some "down and dirty" chords. I'm a firm believer in having fun with bluegrass and the fun really starts when you can play with other musicians!

Other students have particular songs or styles of music they wish to master, so we dig into how to "decode" a melody and chord sequence and then create an arrangement. This can involve using some software programs like Song Surgeon or Tabledit.

I have developed an approach to right hand rolls that can be used to play the melody line of a song, which is typically one of the big mysteries of the 5 string banjo. Along with this method, I have lots of materials, tabs, and exercises, including an instruction book that allows people to branch out and work on other areas on their own.

I cover all the basic Scruggs rolls, licks, bells, and whistles. I don't, however, insist on playing every thing just like Earl. To the contrary, I think we all need to find our own "inner Earll!"

I often incorporate some music theory into lessons, including how to find chords "up the neck," how to understand major and minor chords, and how to play backup. For more advanced players, I can offer suggestions on more complex chords, chord substitutions, and melodic style banjo. It is not necessary to be able to read music and I encourage everyone to use their ears as much as possible!

My in person teaching schedule is quite flexible, as I have retired. I often teach in the evenings and weekends for folks with day jobs. Many students opt to come every other week (affording them time to absorb and master material). I can also do "jump start" lessons every week for those students (like soon to be college grads for example) who are wanting to cram in as much banjo information as possible before they leave the area.

I was initially reluctant to do ZOOM lessons, but have actually found them to be quite productive. and we can do whatever length of lesson you choose, although most students opt for an hour lesson. I do a video summary for both ZOOM and in person lessons so you can review the material after the lesson and play along with the examples we have studied.

Feel free to drop me an email if you're interested in finding out more. And most of all, have fun playing music!!
Comments
Awesome photo! - keqwow1
I've been taking lessons with Paul for about a year and a half, in person, then transitioning online due to the pandemic. His style of teaching is student centered. He's good at figuring out what your strengths are, and playing to that in a super positive and encouraging way, nudging you forward in weaker areas, while giving you what you want in terms of intensity and curriculum focus. Paul's teaching pulls from several threads simultaneously, and the threads connect more and more as you go along. My lessons include a mix of rolls and patterns, by rote songs, tablature, chord shapes and theory up and down the neck. Then to top it off, Paul records and sends a video recap of the lesson which is amazingly helpful. I feel like I am getting a wonderfully rich and textured "banjo education" by a gifted educator and fun dude. What a combo! Thank you, Paul!
Your (best) student,
Kari - zkari
Taking classes with Paul has been a blast! I'm brand new to banjo and in the past few months I've already learned so much. He sends out really helpful recorded videos after every lesson, breaking down what we went over that day. And I LOVE how he's happy to deviate from his planned lesson when I have a song I'd like to explore. Definitely recommend Paul for anyone looking to pick up the banjo! - msloew09
You must sign into your myHangout account before you can post comments.