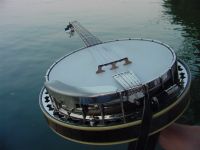 Teaches Lessons: Online, In Person
Styles: Bluegrass (Scruggs)
Levels: Beginner, Intermediate, Advanced
Teacher Since: 1990
Pricing: negotiated and based on a 1 hour lesson
Listing Created: 11/15/2011
Listing Updated: 5/7/2020
More About Me
I enjoy working with banjo students at all levels and abilities and most of my students are from the Finger Lakes area. I've had students as young as 7 and as old as 88! My specialty is 3 finger bluegrass, but I can cover claw hammer basics for anyone interested in that style.

I don't follow an rigid "module" approach to teaching. My style is to find out what each student wants to accomplish. Many students wish to be able to jam with other players, so the focus is often on understanding how songs can be played with some :down and dirty" chords. I'm a firm believer in having fun with bluegrass and the fun really starts when you can play with other musicians!

Other students have particular songs or styles of music they wish to master, so we dig into how to "decode" a melody and chord sequence and then create an arrangement. This can involve using some software programs like Song Surgeon or Tabledit.

I have developed an approach to right hand rolls that can be used to play the melody line of a song, which is typically one of the big mysteries of the 5 string banjo. Along with this method, I have lots of materials, tabs, and exercises, including an instruction book that allows people to branch out and work on other areas on their own.

I cover all the basic Scruggs rolls, licks, bells, and whistles. I don't, however, insist on playing every thing just like Earl. To the contrary, I think we all need to find our own "inner Earll!"

I often incorporate some music theory into lessons, including how to find chords "up the neck," how to understand major and minor chords, and how to play backup. For more advanced players, I can offer suggestions on more complex chords, chord substitutions, and melodic style banjo. It is not necessary to be able to read music and I encourage everyone to use their ears as much as possible!

My teaching schedule is quite flexible, as I have retired. I often teach in the evenings and weekends for folks with day jobs. Many students opt to come every other week (affording them time to absorb and master material). I can also do "jump start" lessons every week for those students (like soon to be college grads for example) who are wanting to cram in as much banjo information as possible before they leave the area.

I have recently started providing ZOOM lessons and can do whatever length of lesson you choose. I do a video summary as well, so you can review the material after the lesson.

Feel free to drop me an email if you're interested in finding out more. And most of all, have fun playing music!!