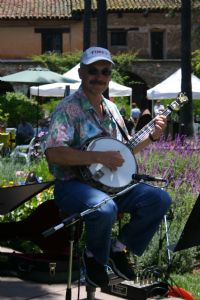 Teaches Lessons: Online, In Person
Styles: Bluegrass (Scruggs) , Other
Levels: Beginner, Intermediate, Advanced
Teacher Since: 1989
Pricing: $100/month online/Skype - 45 min. weekly. $120/month - 45 min. weekly in person.
Listing Created: 11/29/2011
Listing Updated: 3/13/2023
More About Me
I started playing 5 string banjo in 1979, and have taught on and off since 1989. I use a song based approach for students to incrementally increase fundamental skills to play the type of banjo style/material that a student desires to master.
I encourage the use of computer learning aids that slow down recordings of banjo breaks and back up so you can play them accurately at a slow speed, then as you slowly speed up, tone, precision, and timing accuracy are not compromised. I will teach you how to use programs such as "The Amazing Slow Downer", and "Band in a Box" so your practice time is always moving you towards a quality sound, and ready to play with others!
manzanita.music1@gmail.com
Since 1984, my day job has been teaching 18 to 22 year old severely handicapped students independent living and job skills in the public school system. I am a banjo teacher first, banjo performer second. I can teach ANYONE, regardless of ability, how to be a great sounding banjo player!