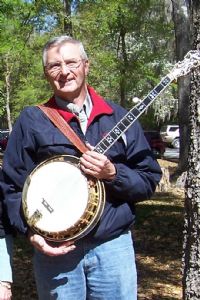 Teaches Lessons: In Person
Styles: Bluegrass (Scruggs) , Clawhammer and Old-Time
Levels: Beginner, Intermediate
Teacher Since: 2000
Pricing: $20 an Hour
Listing Created: 11/18/2011
Listing Updated: 11/21/2011
More About Me
Hello,

I've been playing Bluegrass Banjo since the mid-seventies.
A lot of folks have helped me improve my techniques over the years and I've always tried to help others along the way.

Having retired from the South Carolina State Park Service five years ago, I've been able to spend a lot more time playing my banjos.

In addition to Scruggs Style Bluegrass, I also play and feel very capable to teach Claw hammer /Old Time Style banjo.

My approach to teaching is to first find out where you are with the banjo and start from there. The biggest factor in how fast one progresses is the student themselves and how much time they put into practice between lessons.

If you already play, but want some help with a specific song, I'd be happy to give a single lesson.

I'm a big fan of playing with others whenever you have the opportunity. I will make students aware of opportunities in the area and encourage them participate in local picker gatherings.


Let me know if I can help with your banjo enjoyment.

Keep picking.