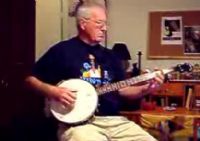 Teaches Lessons: In Person
Styles: Bluegrass (Scruggs) , Other
Levels: Beginner, Intermediate, Advanced
Teacher Since: 2008
Pricing: $30 hour
Listing Created: 11/16/2011
Listing Updated: 2/15/2013
More About Me
Still teaching and enjoying banjo!

Ran a very successful jam class in early July 2012...the students were great! Certified as a Bluegrass Jam Class Instructor ... first in Canada ... by Dr. Banjo.

I love the 5 string banjo, am a super teacher, have a good sense of humor, play and sing well, and in a bluegrass group. Modest too!

Have made many friends from students over the past years as we all love this same crazy instrument...the 5 string banjo.

I've written my own instruction booklet giving all kinds of info, as well as covering the primary (I think!) rolls to learn. This book is free as you move along. Also have hundreds of lyrics, tabs and mp3s.

Lessons are from my home music studio in Strathroy. Ontario, about 30 minutes from London. ON, just off the 402, and about 35 miles from the Michigan border at Port Huron,

Have attended a number of Midwest Banjo Camps ...maybe we've met there!

So get pickin'.