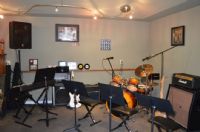 Teaches Lessons: Online, In Person
Styles: 4-String (Tenor/Plectrum)
Levels: Advanced
Teacher Since: 1980
Pricing: $125.00/month
Listing Created: 7/19/2012
Listing Updated: 9/21/2012
More About Me
I started playing tenor banjo when I was 8 years old. Both my Grandfather and Father played, and I loved it from the very beginning. I started playing with the Peninsula Banjo band, and at the age of 14 (I'm 53 now) I started playing at Frontier Village Amusement Park in San Jose for 7 years as a member of the Gaslite Gang. I went on to play at Great America, Marine World and Coyote Ranch.

I studied tenor banjo under Charlie Tagawa, then switched to Plectrum. I also studied Perry Bechtel, and learned quite a lot from fellow Peninsula Banjo Band member Gary Isbell.

My styles range from jazz to country. I teach out of my studio (SMA Studios) in Saratoga, and can do online as well. My strengths are in music theory, and fundamentals of playing. I've made two recordings: The "Gaslite Gang", and "The Last Frontier". The Gaslite Gang is a studio produced album of the Gaslite Gang, and The Last Frontier is a live recording of the Gaslite Gang at Frontier Village.

I own and operate my own SMA Studios http://www.smastudios.net where I both teach and produce CDs. I am currently working on a CD due out at the end of August. I've posted the first song, "Home", from that CD on banjohangout. The song illustrates much of my jazz style. The next song I'm working on, "Little Mountain Church House", illustrates more of my country style.

Comments
Kevin,
This is Bjorn Koch writing you from Reno Nevada. Tommy passed away Dec. 28. Funeral will be Thursday Jan 8 th at 1:00. Please call me at 775-232-8648
Best,
Bjorn - Bjorn Koch
You must sign into your myHangout account before you can post comments.