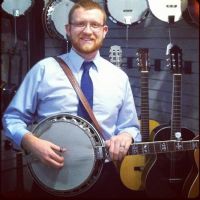 Teaches Lessons: Online, In Person
Styles: Bluegrass (Scruggs)
Levels: Intermediate, Advanced
Teacher Since: 2006
Pricing: $20 Half Hour. $30 Hour
Listing Created: 9/13/2012
Listing Updated: 3/31/2016
More About Me
John Mark Batchelor, a self-taught banjo and guitar picker from Back Swamp, North Carolina. He has a strong musical family background in southern gospel music, and played for Avery County, Roby Huffman and the Bluegrass Cutups, Marshall Stephenson and the Bluegrass Train, and New River Gospel Before going on the road with Audie Blaylock and Redline and then Mike Cleveland and Flamekeeper (the now four time IBMA Instrumental Group of the Year...of which John Mark was winner of two of those awards)

He has recorded at the world famous recording studio "Hilltop" in Nashville TN and has an album out with Flamekeeper "Leavin Town" that peaked at #4 in the World Bluegrass Charts.

He has done several fill ins with big name groups and continues to do studio work in NC.

He still tours on a semi-pro basis nowadays with Kings Grace, a gospel group from Jacksonville NC....but has returned to teaching and inspiring new pickers!

"I don't claim to be a teacher. Im better at showing people how to play songs they are having a hard time with, and doing licks and basics the right way. If you're wanting a teacher that helps you learn songs that you are having a hard time with or licks you are struggling with then I may be the one for you. If you havent played before and are just starting I would suggest someone else."


Contact John Mark directly at www.facebook.com/JMB.Banjoman

and his skype lesson account at john.mark.batchelor

For clips on my style of playing and lessons go to my Facebook page! Bless ya!
Comments
John can do it all. He is a stellar teacher, a great picker, and a super great guy to take lessons from. He is easy to work with and goes out of his way to make you a friend not just someone learning to play from him. - Banjonny
John is a great teacher, patient and works very well with students...willing to share his knowledge. Every serious banjo player should learn John's version o Sugarloaf Mountain, a fantastic tune played by Bill Monroe's banjo player Blake Williams. Check out John's playing of this tune! You will see what an accomplilshed picker he is....so let him help you. Highest recomendation. Dick Krenz - Selfmade
Hi John, any chance you have an instruction video for purchase on Reuben? - kujo41
You must sign into your myHangout account before you can post comments.