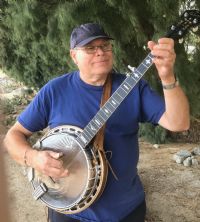 Teaches Lessons: Online
Styles: Bluegrass (Scruggs) , Classic, Classical
Levels: Beginner, Intermediate, Advanced
Teacher Since: 1978
Pricing: $50 for 45 minutes
Listing Created: 6/25/2021
Listing Updated: 6/25/2022
More About Me
Since the age of nine in 1965, after hearing The Beatles, I knew that music was my calling!

The Beverly Hillbillies was a new show in the '60's, and Earl's banjo on the theme called out to me at an early age. Later on in high school, Eric Weissberg's "Dueling Banjos" hit me like a bolt of lightning, and with my Earl Scruggs book in hand, I began my journey of studying the banjo.

In 1974, I began my college music studies on trombone at The New England Conservatory in Boston. During that time, I lead a secret "double-life" as a banjo picker/rock guitarist. As part of the rock band Orion, I played banjo and guitar for a London Phase IV Record we made called "Sometimes Words Just Get in the Way." After finishing up with college in Boston, I began studying the banjo with Roger Sprung, one of the many great pickers (along with Pete Seeger and Doc Watson) to come out of Washington Square in NYC.

Roger really opened my eyes to the banjo neck! He taught me chord theory and how to arrange songs for the banjo my own way. More importantly, he taught me how to teach others. Thanks to him, I was able to start a business of my own in 1978, teaching banjo, guitar and other stringed instruments in upstate New York.

As the years went on, I made several "pilgrimages" to Woodstock, NY to study banjo with Bill Keith. This furthered my knowledge of music theory and its application to the instrument. It is in the spirit of passing on some of this knowledge of the late, great Bill Keith to other banjo pickers, that I continue to teach and write about banjo, and music in general.

I have written three books on how to play the 5-string banjo (3-finger, Scruggs-style), both available for sale on Amazon.com:

New Techniques For 5 String Banjo Volume 1, Beginner

New Techniques For 5 String Banjo Volume 2, Beyond Beginner, Journeyman/Journeywoman
New Techniques for 5 String Banjo Volume 3, Pickin' Power, Up from the Foundation
Here are some other fun and useful books that you may like to add to your library:
Jeff Belding's Banjo Tab Sketchbook
12 Songs of Christmas: Duets for 5 String Banjo and Guitar

My lifelong career in music has given me a diverse background in bluegrass, country, rock, jazz and classical music styles. This led me to a multitude of studio projects as a banjo player, including Frank Gadler's (of NRBQ) most recent solo record "Cause of You" and The Willie Amrod Band CD, "Everywhere Is Outta Town" - among others.

I have now settled in Chandler, Arizona where I can be found playing at local jams, blogging, and pursuing a career as a teacher, author and composer. One of my fondest memories was winning first place in the "New Twists For Banjo" original tune contest in the 1980's, judged by Tony Trischka - here's the story and the tune. Please visit my website www.jeffbelding.com for more information about my books, and to subscribe to my blog. I also have banjo tab for sale in my store. You can also find me on Facebook Twitter and Youtube

I am teaching on-line using Zoom. If you're interested in lessons please email me at jeff.belding@yahoo.com. Lesson time begins when the internet connection for both of us is satisfactory. These lessons/coaching sessions can be a one time thing or I am happy to work with you to set up recurring sessions.