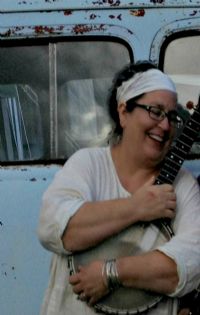 Teaches Lessons: Online, In Person
Styles: Clawhammer and Old-Time
Levels: Beginner, Intermediate, Advanced
Teacher Since: 1985
Pricing: $40/hour
Listing Created: 11/15/2011
Listing Updated: 4/12/2020
More About Me
https://www.hilarieburhans.com
http://www.patreon.com/hilarieburhans

Thanks for checking out my teaching profile!
The second link above is to my Patreon page, where you can access all my more recent instructional videos. Subscribing to my Patreon page costs $4 per month.

I've been teaching for 35 years or so. I tend to only take a couple of students at a time, as my time is a bit limited (own and am exec chef at restaurant, and play in 3 bands that tour nationally.) I have also taught at various camps, i.e. Augusta Oldtime Week, Blue Ridge Music Week, Janie's Jumpstarts (excellent weekend intensive camps that take place in various locations.)

My teaching style is supportive and relaxed. I'm all about passing on what I've learned from lots of other people. I don't supply tablature but do provide you with a slow video of the tune for each lesson. (I publish these on my YouTube channel for both you and others to use.)

I would not characterize my banjo playing style as "melodic clawhammer." For me personally, I view the banjo as an equal partner with the fiddle, and feel that within this partnership, the role of the banjo is 1) percussion, 2) suggesting chords, and 3) sketching out the melody. My teaching style is geared toward helping you enjoy playing with others. That said, I do feel that it is important to learn a number of tunes initially in a "note-by-note" fashion, as the tunes you learn in this way help you to develop a "vocabulary" which is then useful for other tunes you wish to play. But when you are ready, I can help you transition from learning tunes note-by-note to beginning to be able to learn tunes in jam settings or from recordings.

I also occasionally take individuals or small groups for 2-3 days as a sort of intensive private workshop. We put you up, feed you at our restaurant, and "lesson" you until your brain is full of banjo! PM me if you'd like to talk about this option, or call me at this 740 number seven oh seven, too one six seven. And if you can figure out that phone number, you're plenty smart enough to play the banjo!

I do teach using Skype or Zoom or Facebook Messenger video as well. My price is the same as for in-person lessons: $40 for an hour lesson. Feel free to give me a call, or pm me, to talk about arranging lessons.