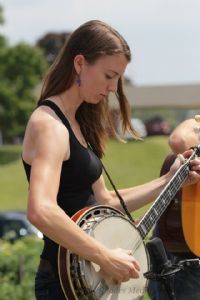 Teaches Lessons: Online, In Person
Styles: Bluegrass (Scruggs)
Levels: Beginner, Intermediate, Advanced
Teacher Since: 2005
Pricing: $35/half hour $65/hour
Listing Created: 5/28/2015
Listing Updated: 6/14/2020
More About Me
Hey folks!
I teach bluegrass banjo online and in person here in Winchester, VA. I also have a Patreon page with banjo lesson videos and the option to get personalized feedback, take special requests and more (:

Here's my bio...

Twice nominated for the International Bluegrass Music Association's Banjo Player of the Year, Gina began touring up and down the east coast in
her tween years with her siblings, earning countless ribbons from fiddlers conventions, a
strong reputation in the regional bluegrass scene, and a stamp from Bluegrass Today as
"absurdly talented". She developed national recognition with her four years playing for Chris Jones and the Night Drivers. The release of her first album, "True Colors", brought Gina's talents into the spotlight with a #1 song on Bluegrass Today Charts, "Puppet Show".