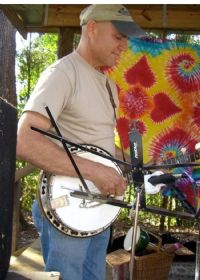 Teaches Lessons: In Person
Styles: Bluegrass (Scruggs) , Other
Levels: Beginner, Intermediate, Advanced
Teacher Since: 2011
Pricing: $50 per half hour
Listing Created: 11/29/2011
Listing Updated: 3/31/2021
More About Me
Hello, I've been playing the 5 String banjo since 1974. I learned from records of Earl Scruggs, Bill Keith, Alan Munde, JD Crow, Tony Trischka, Bela Fleck, Don Reno, Bobby Thompson, Pat Cloud, Ben Eldridge, basically all the great players. like many banjo players today I use all styles of three finger picking, Scruggs, Melodic/chromatic and single string (Reno style) and I teach all three techniques. I've been teaching banjo for many years and I really enjoy helping people to progress in their playing. I have a recording studio in Rockledge Florida and that is where I teach Banjo, Mandolin, Guitar, Fiddle, bass and percussion. I also play music professionally with my wife and our bass player in a Trio we call Wild & Blue. We play every week locally and we do some traveling and play as much as we can. Good luck with your music and say hello if you come by one of our performances.
Comments
I am moving to Rockledge in August. I play a little banjo but need to continue instruction. I would also be interested in Clawhammer. You can reach me at 561-254-1254 - douglasfountain
I am currently accepting new students - Five String
Beginner to Intermediate claw hammer banjo player. Looking for teacher in person or online. Live in Merritt Island near Rockledge. Ginger at 225-281-0291 - GingerCamp
Hi Ginger, I play three finger styles but I'm not much of a claw hammer player. I hope you find a good claw hammer teacher !
all the best to you. - Five String
You must sign into your myHangout account before you can post comments.