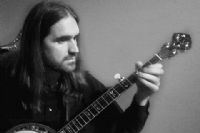 Teaches Lessons: Online, In Person
Styles: Bluegrass (Scruggs)
Levels: Beginner, Intermediate, Advanced
Teacher Since: 2001
Pricing: Canadian dollars: $30 1/2 hr $60 hr (about $44hr USD)
Listing Created: 11/15/2011
Listing Updated: 9/29/2020
More About Me
I love playing the banjo and I love teaching the banjo. I specialize in Scruggs style and modern varients (Fleck etc.) and assign repertoire and exercises for lessons based on the needs and goals of the individual student.

Throughout my career I have played banjo in a number of touring bands including The Clumsy Lovers, The Tishomingo String Band and Wildwood Fire. Over the years I have had the pleasure of playing banjo on a number of recordings for a variety of excellent artists.

I hold a Bachelors Degree in Music from York University and have taught private banjo lessons for over 18 years and also worked as a music teacher in the Canadian independent school system.

I teach at my home studio in Coquitlam, BC and also offer online lessons for those who live farther away.

Write me or call at 778-870-6347 to set up a lesson time.