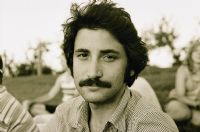 Teaches Lessons: Online, In Person
Styles: Bluegrass (Scruggs) , Classical, Clawhammer and Old-Time
Levels: Beginner, Intermediate, Advanced
Teacher Since: 2011
Pricing: $35/half hour.
Listing Created: 4/14/2014
Listing Updated: 12/30/2021
More About Me
David Jones has been playing banjo for 19 years, more than 8 of which have been on a professional level. He is a founding member of the Southeast Michigan indie band Frontier Ruckus- with whom he has played hundreds of shows across the U.S and Europe.

David LOVES to teach, and will cater to your individual style as a banjo player. Whether you're a complete beginner or an advanced player, he lives to show you that banjo is not just a bluegrass instrument, but rather an incredibly versatile tool with which to play classical, blues, jazz, ragtime, and even rock.

He teaches the three-finger style (Scruggs, melodic, single string), and will go over in depth about picklore, setup, and technique if you'd like!