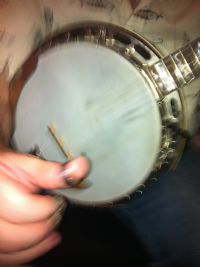 Teaches Lessons: Online, In Person
Styles: Bluegrass (Scruggs)
Levels: Beginner, Intermediate, Advanced
Teacher Since: 1987
Pricing: $50.00 per hour
Listing Created: 11/15/2011
Listing Updated: 8/21/2015
More About Me
www.chris-quinn.ca

Chris Quinn is the multi-award winning banjo player for The Foggy Hogtown Boys.

He has performed on more than 125 recordings as a side-man or featured artist--including 7 projects with The Foggy Hogtown Boys.

Chris has performed at festivals and concerts all over the U.S. and Canada as well as having toured internationally.

With more than 25 years experience, he is also a highly acclaimed instructor: as comfortable instructing one on one or with larger groups; Chris even conducted a banjo workshop in a bomb shelter in the middle east once!

Banjo Newsletter has published featured articles on Chris as well as tablature for a few of Chris' original tunes.

Chris has performed with Jughead, One Horse Town, Heartbreak Hill, Luther Wright and the Wrongs, John McEuen, Vassar Clements, Kenny Baker, and Bill Monroe.

Here are some topics that I cover in my banjo teaching:
- Earl Scruggs.
- Picking Patterns
- Proper placement for finger-picks, where to position the banjo strap for best results, knowledge of the banjo's main components.
- Improving the drive of your picking hand.
- Improving those three T's. Taste, Tone and Timing.
- Improving playing techniques, and refining individual playing habits.
- The most effective use of a capo.
- How the banjo proceeds through a classic bluegrass song; the kick-off, supportive rhythm, fills, back-up licks, playing the melody, and the classic Scruggs endings.
- Finding the melody to a song based on the chords and the vocal lead.
- How to open up the 3 major and minor chord shapes.
- How to open up the neck and play out of other positions and keys.
- How to survive in a jam session.
- The styles of some banjo greats: Scruggs, J.D. Crowe, Ralph Stanley, Bill Keith, Bela Fleck, and many, many more.

And, if bluegrass is not your thing, but the banjo is; I have taught many like you. Before you know it, we can have you playing with the guys down the block who jam rock music.
Comments
Chris is a teacher I would recommend in a heartbeat. Patient and knowledgable he found ways to get around rough spots. If you want to learn he will find a way to help you succeed. I took private lessons for two years and only stopped because of transportation, time restraints. He helped me to have confidence to play on stage with a group of friends. - Toronto Transit
You must sign into your myHangout account before you can post comments.