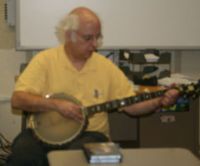 Teaches Lessons: In Person
Styles: Clawhammer and Old-Time
Levels: Intermediate, Advanced
Teacher Since: 1975
Pricing: $30/hr.
Listing Created: 11/15/2011
Listing Updated: 11/15/2011
More About Me
Playing for more than 50 years now. Teaching off and on for most of that. Informal & irregular lessons; no tab. Recording (audio or video) welcomed. I can show you what I do, but I can't teach various styles (e.g. Round Peak). Check my BHO Sound page for examples of my playing. I can probably help most developing and refining frailing and clawhammer.
Comments
Bill,
Thanks for all you do on BHO. I think you're a very measured and fair Moderator...Jack Baker - Jack Baker
Grateful for the time and effort you put into being a mod here on the BHO, and for your postings which I look forward to.

With Appreciation; R.D. Lunceford - R.D. Lunceford
You must sign into your myHangout account before you can post comments.