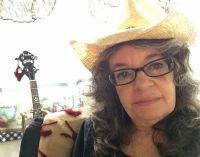 Teaches Lessons: Online
Styles: Bluegrass (Scruggs) , Clawhammer and Old-Time, Other
Levels: Beginner
Teacher Since: 2013
Pricing: $40 for 30 min.
Listing Created: 9/25/2013
Listing Updated: 5/3/2021
More About Me

5 string banjo: I teach two finger style as it's easier for most people than the 3 finger. You'll be learning bluegrass/gospel tunes,chords,etc.

I also teach beginning clawhammer and beginning bluegrass for the more adventuresome.


Pay a month in advance (4 lessons,one a week) and I'll give a discount. I accept Paypal and Venmo.

For those on a budget,I have free online lessons with TAB on my Patreon page. Visit www.hearthcricketmusic.com



Currently accepting students between the ages of 18-49. (this is the age range I work best with.

Only rules I have for privately teaching online students are: you must be willing to learn songs you've never heard before,know how to print a PDF.

If you've had not so positive encounters with other teachers,I can help you learn to play in a nurturing,comfortable atmosphere. I remember what it's like to be starting out on guitar,mandolin,and fiddle!

One of my gifts is teaching you how to unblock your creative self and keep your inner critic at bay.


Firm believer in teaching positive mindedness while teaching the instrument. Attitude is everything! Do email me with any questions you may have. mandolinbabes@ymail.com



Comments
I've been a student of Sherrie for around 7 months and like her a lot. She is a very friendly and fun teacher! She likes to introduce creativity even at the most beginner of levels which I found to be very helpful when learning. She also puts in extra effort outside the normal lesson time. Really an overall good teacher and person! - eggman95
You must sign into your myHangout account before you can post comments.