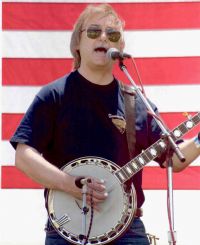 Teaches Lessons: In Person
Styles: Bluegrass (Scruggs) , Other
Levels: Beginner, Intermediate, Advanced
Teacher Since: 1970
Pricing: $30
Listing Created: 11/15/2011
Listing Updated: 11/15/2011
More About Me
After teaching at the Blue Ridge Pickin' Parlor for over thirty years, I'm am now teaching at home in Panorama City, CA (central San Fernando Valley). I teach 5-string banjo: Scruggs style, melodic style, bluegrass, country, folk, pop, ragtime, marches. I also teach acoustic guitar: bluegrass flatpicking, fingerpicking, general folk and pop. Email billknopf@billknopf.com or call 818 891-2533.
Comments
I was on youtube and came across Dust in the Wind. Awesome! Thanks. - banjo_neophyte
Being an old Marine, John Philip Sousa tunes are forever engrained in my memory, but I must say, your rendition of Stars and Stripes Forever is one of my favorite! - 918273
You must sign into your myHangout account before you can post comments.