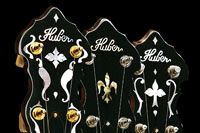 Teaches Lessons: Online, In Person
Styles: Bluegrass (Scruggs) , Clawhammer and Old-Time, Other
Levels: Beginner, Intermediate, Advanced
Teacher Since: 1996
Pricing: $40 for 40 min. $50 for 55 min.
Listing Created: 12/15/2011
Listing Updated: 12/27/2019
More About Me
I have been playing 5-string banjo since 1989. I am a two-time first place winner of the Western Canadian Bluegrass Banjo Championships and the Weiser Banjo Contest and a long-term member of the Bluegrass/Celtic/Rock-band 'The Clumsy Lovers'.

In addition to performing, recording, and teaching one-on-one banjo, guitar, and mandolin lessons, I have many years of experience hosting beginner (and more recently, also intermediate) Bluegrass jams and teaching at Bluegrass Workshops, including having taught the Intermediate and Advanced Banjo classes at BCBW (now 'Nimble Fingers'). I teach every year at the Weiser Bluegrass Banjo Camp.

My students have said the following about me:
"Jason works very hard to ensure the success of his students. He has a long term plan for each student and is prepared in advance for every lesson."

"Jason's attention to detail and individualized approach to the lessons is excellent."

"Method: Similar to the Wernick method except you use more tab and teach more music theory. Emphasis on building a jam focused practical skill set."

"I would describe your teaching style as mature and adaptive. Playing an instrument appears to require both a mix of technical and artistic skills and I think your teaching style allows you to pass on that information in very meaningful ways that are effective. You are patient with students but you also set achievable goals and objectives for them based on the individual student and aren't locked in to using some rigid pattern of learning."





Comments
My name is Ken Taylor. I have a need for someone to help me regain my right form. I worked for several years training my index and middle to not hit each other when picking. I have created a monster though for I seem to not be able to keep my middle finger close to the strings now and have lost 50% of my speed and smoothness I once had. I am at a loss as to what to do that might undo this problem. Do you think you could help me. - jdotjdot53
I have picked up and put down instruments for years never connecting with my teacher or progressing or enjoying the learning process. Jason Homey changed all that. He is the hardest working teacher period who produces a custom learning program of his own arrangements to make certain the process is fun and insures progress without frustration. Everyone wanting to learn banjo guitar or mandolin should learn from this exceptionally skilled teacher and incomparable musician. - pruchafan
You must sign into your myHangout account before you can post comments.