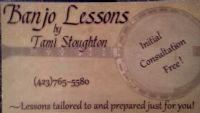 Teaches Lessons: Online, In Person
Styles: Bluegrass (Scruggs)
Levels: Beginner, Intermediate
Teacher Since: 2005
Pricing: $20.00 for 45 minute lesson
Listing Created: 9/2/2013
Listing Updated: 4/14/2017
More About Me
I am currently giving banjo lessons in my studio in
Bristol, Tennessee and via SKYPE.

If interested in either, contact me at

fivestringtami@yahoo.com
or

(423)765-5580.

References available.
Comments
I've never taken lessons for any instrument. However, thought I could use some help on my beginner stage banjo playing. She has been able to teach me the rolls when I didn't think I could get my fingers to move that way. I'm on my way to my first song after learning proper positioning. There is a lot to this banjo and I'm glad she is there to correct me when I'm doing wrong. Highly recommend her. On my 3rd lesson and can't wait for the lessons to come! - fatbob
You must sign into your myHangout account before you can post comments.