Written/Posted by Laurence Diehl
[download]
- Play count: 1353
Size: 2,076kb, uploaded 10/2/2008 8:11:29 AM
Genre: Bluegrass / Playing Style: Bluegrass (Scruggs)
© Laurence Diehl 2008
Another one of my tunes. Didn't take too long to write, then I thought about the title for 3 months!
---
8 comments on "Blue Ribbon Rag"

John Kuhn Says:
Thursday, October 2, 2008 @7:06:49 PM
Hey man nice tune! Good contrast between the parts.Unexpected change ups.AND as always SMOOTH..Enjoyed it!!! John

Rick Woods Says:
Friday, October 3, 2008 @3:36:36 AM
AMAZING! I always look forward to your tunes as they are inspiring to say the least. Very nice pickin'.

Don Borchelt Says:
Tuesday, October 21, 2008 @4:57:21 PM
Terrific picking. Well done!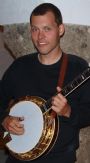 Violanjo Says:
Friday, February 27, 2009 @2:31:32 PM
You composed that in 20 minutes?? Thats amazing! Great stuff.

Ize_B_Pickin Says:
Friday, May 8, 2009 @11:56:28 AM
Excellent!!!

ronhan Says:
Wednesday, January 16, 2013 @3:38:48 PM
Hey Laurence, How would this tune sound played fast?????!!!!! : )
Laurence Diehl Says:
Wednesday, January 16, 2013 @4:03:55 PM
Ha! Well Ron, that was back in '08, I think I've calmed down a bit since then.
You must sign into your myHangout account before you can post comments.