Posted by Violanjo
[download]
- Play count: 612
Size: 5,629kb, uploaded 9/18/2008 3:54:39 PM
Genre: Classical / Playing Style: Bluegrass (Scruggs)
I recently heard a piece by J. Krueger. I was so impressed by his way of playing that I decided to create a chamber music like piece which is based on his melody. I added 2 melodic lines and I changed the banjo part slightly. Everything is played by myself including some little mistakes. Picked on my japanese FAKE GIBSON.
---
8 comments on "Fantasy for 2 Violins and Banjo (after J. Krueger)"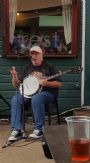 joemac Says:
Thursday, September 18, 2008 @7:48:18 PM
Manuel, this piece is from the bridge album is it not?..have you the tab? i would love to try this piece....please say yes!!!!......well played.

WGE Says:
Friday, September 19, 2008 @12:59:01 PM
Very sweet and sublime with wonderful melodic counterpoint. Thank you for sharing it with us. WGE

Just Bill Says:
Friday, September 19, 2008 @9:22:12 PM
Now, that's just pretty! Thanks for posting this one, Manuel!
Bill

Joel Hooks Says:
Friday, September 19, 2008 @10:26:49 PM
Very impressive, I like your style.

Bongshang Says:
Saturday, September 20, 2008 @1:12:13 AM
Awesome as always. You just keep getting better and better.

Yopparai Says:
Sunday, September 21, 2008 @4:58:06 PM
Bravo, once again. Beautiful.

Lumpy Says:
Tuesday, September 23, 2008 @10:52:35 AM
Manuel, that is your best so far. My wife and I enjoyed that piece very much. You still amaze me with your talent. Bravo.

Shilohbanjoman Says:
Tuesday, January 20, 2009 @10:42:41 AM
Manuel, you are a genius. This is a wonderful piece. Someday you will be recognized a great and innovative composer.
You must sign into your myHangout account before you can post comments.