Posted by Patrick P.
[download]
- Play count: 191
Size: 4,968kb, uploaded 9/12/2008 4:37:50 AM
Genre: Unknown/None Chosen / Playing Style: Unknown/None Chosen
Enjoy the midi accompaniement and the trombone solo !
---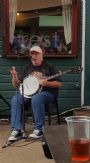 joemac Says:
Friday, September 12, 2008 @6:02:18 AM
Patrick, that was wonderful, well done!.....Joe

Just Bill Says:
Friday, September 12, 2008 @8:21:37 AM
Wow, Patrick! That is cool! Banjos can go with anything! Especially if you're playing it! Great job!
Bill Breen, Tucson, AZ

Banjowen Says:
Friday, September 12, 2008 @11:42:05 AM
Another good tune played by a very good banjo player....nice one Patrick.

robin jones Says:
Friday, September 12, 2008 @3:46:53 PM
Goes to prove we're only limited by our imaginations. And maybe our talent. Very cool.

John D Says:
Sunday, September 14, 2008 @8:51:23 AM
Very cool. You find these pop tunes from my childhood that I haven't heard for years but are lingering in my unconscious. Would love to hear you do the Who song "Substitute!" John D

Rick Woods Says:
Tuesday, September 16, 2008 @5:13:07 AM
Amazing! I am so relaxed now. You are the most outstanding player of non-traditional banjo music I have ever heard. Don't ever stop showing us the value of a banjo in the music world.

NMD Says:
Wednesday, September 17, 2008 @10:34:32 PM
Another great post, Patrick!

Don Borchelt Says:
Saturday, September 27, 2008 @9:38:44 PM
You never play too many notes. I am amazed at how smooth you play the dang thing. Wonderful picking.
You must sign into your myHangout account before you can post comments.