Posted by Don Borchelt
[download]
- Play count: 1834
Size: 3,172kb, uploaded 9/7/2008 6:52:20 AM
Genre: Old Time / Playing Style: Clawhammer and Old-Time
Ed Britt and I went up to the Lowell Fiddle and Banjo Contest yesterday, and brought the remnants of hurricane Hannah with us. The contest was driven inside the high school, which cut down on the jamming. We did have a nice session with fiddler Barkev Kaligian, from Lexington, Mass. This is us playing in a hallway between the lockers and water bubblers. The recording is a little "boomy" as a result, but I hope still fun to listen to. This is the Stephen Foster Hard Times, recorded on my Tascam DR-1. I am playing my "new" 1964 Ode that Ed uncovered for me. I haven't put a semi-fretless plate on it- yet.
---
5 comments on "Hard Times from Lowell 2008"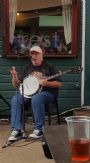 joemac Says:
Sunday, September 7, 2008 @9:24:06 AM
Don, that is absoloutly superb, i love the sound of both those instruments but your banjo is amazing, you caught the essence of the tune brilliantly, five big ones my friend.

flange5st Says:
Sunday, September 7, 2008 @10:27:33 AM
...beautiful rendition.used to play this tune in a former band at the same tempo........brought back some fond memories..........that ODE sounds great...it's a style 2R?...I had one at one time......peace

darryl k. Says:
Monday, September 8, 2008 @12:56:09 PM
oh yah ! Love this tune and lyrics too. Wish you'd been jammin in the hallways when I went to school.......might have saved me from years of rock n roll hardtimes.
darryl

robin jones Says:
Friday, September 12, 2008 @3:44:12 PM
Very nice sir. Made me feel like I was in the 19th century.

JMarshallP Says:
Monday, October 27, 2008 @7:22:31 AM
Hey! I was at Lowell! How'd I miss this jam? (Actually, got there late and spent the afternoon quaking and shaking waiting to compete.)
Great job as usual! What it's all about. 5 stars fer sher.
JMP
You must sign into your myHangout account before you can post comments.