Posted by James Stiltner
[download]
- Play count: 1605
Size: 1,300kb, uploaded 9/6/2008 8:25:35 AM
Genre: Bluegrass / Playing Style: Bluegrass (Scruggs)
From our 2008 CD "Front Porch Pickin' and Singin" on Ramblin' Records......I'm on banjo, mandolin (rhythm) and guitar....my grandfather, Johnny Jackson, is on lead vocals and rhythm guitar...my grandmother, Edith Jackson, is singing tenor...and my wife Cindi is playing bass.
---
9 comments on "Sad and Lonesome Day"
Tom Hanway Says:
Monday, September 8, 2008 @2:08:03 AM
This is fine family singing and Reno-style banjo picking of the highest caliber, with some original touches and ideas which only add to this venerable tradition. With clean, hard-driving double-stops, bluesy string bends and a consistent attack throughout, this is mighty fine picking ... makes me want to play along.... Keep it up. Great stuff! I lost my first wife, so this song really hits home for me. I think I must incorporate it into my repertoire, for Kathleen. Thank you for the inspiration.

Rick Woods Says:
Monday, September 8, 2008 @4:07:59 AM
Great vocals and playing. Keep 'em coming brother!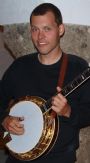 Violanjo Says:
Monday, September 8, 2008 @2:21:29 PM
Congratulations, that is some very fine Reno-picking. This is the thumb brushing technique, right? Must be hard to learn. I also like the bluesy stuff you add to the song.

5stringJim Says:
Tuesday, September 9, 2008 @7:40:21 AM
Superb, I can hear the influences of Eddie Adcock as well as Don. Well done, James!!
Doug Knecht Says:
Tuesday, September 9, 2008 @8:22:26 PM
That's great Reno pickin'! It doesn't get any better than that! Good luck in the music circuit. Doug

pick1936 Says:
Saturday, September 13, 2008 @5:14:29 PM
That Is no dought the best Reno---Adcock banjo pickin,,, guitar also,, THANKS.
pick1936
Lee Kelso

wrightedward Says:
Wednesday, March 6, 2013 @1:28:16 PM
You are a Blessed man ..You have a very talented family ,grandpa does a great job and the apple didnt fall far from the tree.Doesnt matter ,if it is Adcock

banjoy Says:
Sunday, March 10, 2013 @12:30:57 PM
Awesome. Love the blues stuff you got going' on :)

JanetB Says:
Monday, July 15, 2013 @6:06:25 PM
Your picking here IS awesome!
You must sign into your myHangout account before you can post comments.