Posted by TopCat
- Play count: 245
Size: 2,378kb, uploaded 7/25/2008 2:21:15 PM
Genre: Unknown/None Chosen / Playing Style: Bluegrass (Scruggs)
Wildwood Flower by me as I am coming up to the six-months-pickin' mark. This is now one of my best ones but when faced with the recording device I seem to sound more hesitant and it takes ages to get a version with (almost) no mistakes in!!
---
7 comments on "Wildwood Flower"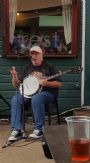 joemac Says:
Friday, July 25, 2008 @11:52:32 PM
Good playing, clean fingering, steady timing.....yep, you got it going well......congrats. wonderful..........joe

TopCat Says:
Saturday, July 26, 2008 @4:50:12 AM
Thanks Joe. Glad to see you're still alive after spending 4 hours on a new tune instead of your assigned housework... ;o)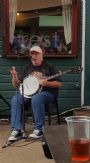 joemac Says:
Saturday, July 26, 2008 @2:31:49 PM
Hi Maria, well played young lady, i got a reprieve on the housework thing.....its called crawling and buying a chinese meal!!!!!

Stephen Jeneson Says:
Monday, July 28, 2008 @4:26:19 AM
Hi maria, just found you sounds, very nice to and read your blog...Paris ...Plant...Biere Blonde , Brill'

Rick Woods Says:
Monday, July 28, 2008 @4:34:15 AM
Couldn't have did it any better myself. Great job.
Edthebanjo Says:
Monday, August 18, 2008 @11:43:27 AM
Nice to run into you again after sore fingers. This is Ed from John dowlings class! You have improved definately!

Keith Madison Says:
Monday, October 27, 2008 @7:17:37 AM
Sounds great, nice and clean. I have to learn that one, as I skipped over it in the JD book - Happy pickin'
Keith
You must sign into your myHangout account before you can post comments.